Winter Hut Trip: Introduction to Backcountry at The High Lonesome Hut
January 6 @ 9:00 am

-

January 8 @ 4:00 pm

If Colorado's pristine backcountry has been calling you, but you haven't taken that first step, this overnight hut trip is where to begin! About Gravity Haus Overnight Experiences Gravity Haus creates best-in-class experiences that welcome our community to spend time…

Book Now
More Info
If Colorado's pristine backcountry has been calling you, but you haven't taken that first step, this overnight hut trip is where to begin!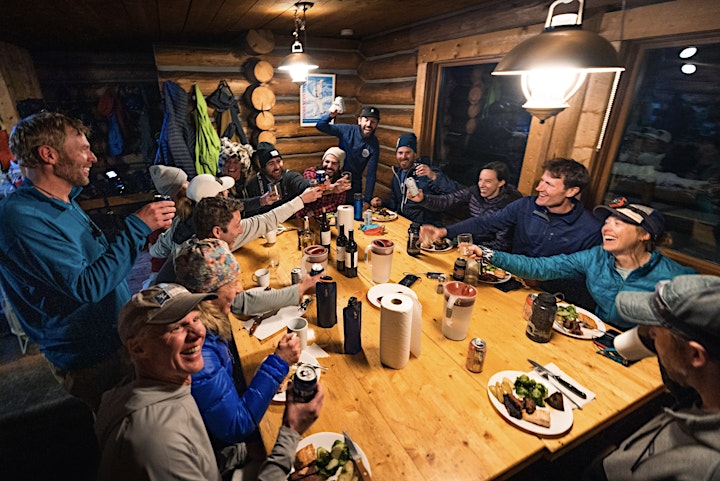 About Gravity Haus Overnight Experiences
Gravity Haus creates best-in-class experiences that welcome our community to spend time in reverence of the great outdoors, where you'll embrace your inner adventurer, disconnect from the grind of daily life, and develop relationships with your fellow Gravity Haus members as you create memories outside, together.
About This Trip
This adventure is the perfect introduction to the skills necessary to confidently take those first steps and venture into the backcountry during the winter. Join us on this 3-day course to learn the ins and outs of backcountry travel in the winter and how to properly execute a winter hut trip. Over the span of this course, you will be taught the basics of traveling into the winter backcountry via skis or splitboard and will also spend time learning the proper etiquette to using a backcountry hut.
Value of This Trip
Gravity Haus members receive a massive discount off of the public pricing. $650 for our members, $850 to the public.
In addition, Gravity Haus will be providing elevated dinners each night from the Cabin Juice kitchen. These specially-created menus are not available to the public.
What You'll Learn
Gear introduction & overview
Intro to trip planning and terrain selection
Intro on how to properly execute a winter backcountry hut trip
Use of beacons, shovels, and probes
Intro to risk management in the backcountry
Proper and efficient transitions
Use of uphill climbing skins
Track setting and kick turns
Intro to Avalanche Awareness
FAQ
Skill Level: Beginner
Group Size: 11 attendees, 1 Gravity Haus Host and 2 guides from Colorado Adventure Guides (CAG)
Pre & Post-Hike Accommodations: We encourage you to use your discount at Gravity Haus Winter Park to stay overnight Thursday or Sunday. Simply open your app to book!
Where Do I Leave My Car? At Gravity Haus Winter Park.
What Do I Pack? This list has everything you'll need to pack!
Can My Dog Come? Not on this trip!
Is There Any Avalanche Danger? The team at Colorado Adventure Guides scouts out the best conditions and assess avalanche danger and other potentially dangerous conditions that may not be evident to the untrained eye. You're in great hands with them.
Itinerary
2 Weeks Prior
Virtual pre-trip orientation meeting, where you'll "meet" with your guides, fellow trekkers, and review all details in preparation for your trip.
Friday, January 6
8AM Breakfast, introductions and gear prep at Gravity Haus Winter Park
Transportation to the field, where we will then travel to The High Lonesome Hut
The afternoon will be spent utilizing field and hut instruction
Apres and Dinner by Cabin Juice
Overnight at The High Lonesome Hut
Breakfast, lunch and dinner provided
Saturday, January 7
Breakfast
Full day of classroom and field instruction where you will practice to better hone your winter backcountry skills. We turn the hut into a classroom and cover trip planning, decision making, route-finding techniques, and more. Field instruction takes place right out the door of the hut!
Apres and Dinner by Cabin Juice
Overnight at The High Lonesome Hut
Breakfast, lunch and dinner provided
Sunday, January 8
Breakfast
Continued classroom and field instruction, plus lunch!
3-4PM Transportation back to Gravity Haus Winter Park
Breakfast and lunch provided
Trip Package Includes
CAG professional ski or splitboard guide (6:1 maximum guide to student ratio)
Food as listed above
Lodging as listed above
Trip Package Does Not Include
About The High Lonesome Hut
The Millers invite you to visit the High Lonesome Hut, located on a 160 acres of meadow and spruce forest surrounded by the Arapaho National Forest.
Travel the 2.5 mile long trail to the Hut by hiking, mountain biking, cross country skiing or snowshoeing – on horseback, or by any non-motorized method you choose. The High Lonesome Hut makes a great base camp for adventures during any time of the year.
At the Hut you will find all the creature comforts, including solar generated electricity, hot and cold running water, an indoor toilet, a shower and space for you and eleven of your friends to sleep.
History of High Lonesome Hut
Andrew Miller grew up in his family's ski lodge, where ski vacations meant staying in pine paneled rooms and eating family style at long tables – meeting new ski buddies at Millers Idlewild Inn in Winter Park. As a teenager he visited European huts, similar to cabins being built in the Colorado mountains. He began a search for a site for a cabin, finding the Lonesome Hut property in 1995. Family and friends jumped into the foray, a mad summer of road building and remote construction – fed by an old Chevy one ton named Frankenstein – resulted in the cabin being opened (in a pretty rustic state) for Christmas. Only trouble was, the frenetic construction schedule had left the cabin without a winter supply of firewood. Numerous boot packed trails led to new stumps through a huge snow winter as Miller carried log after log to feed the hungry pot belly stove.
For the past 27 years, the cabin has hosted 23 blind skiers from England (and several other not-as-large groups from Winter Park's National Center for the Disabled), several Middle Park High School science classes on overnight trips, a group of at risk teenage boys from the Lost and Found School in Denver who built a neat trail named after their school – while begging me to let them use the chain saw "just once!", a few marriage proposals and many other events I know, or should not know about. Lonesome Hut LLC is now a group effort, my partners in this enterprise lend their energy to a refuge we hope you will enjoy.
Access to HLH
The Hut is at the end of an easily traversed trail which may be traveled by any non-motorized method. Dogs are welcome. One group comes in yearly by dog sled. Others bring their horses, a corral is available. You will climb about 600 vertical feet on the way in while traveling well below the hazards of higher terrain. The Hut sits at 9,300 feet.
Surrounding terrain will entertain back country travelers of every ability. Many High Lonesome visitors are first time hut users. The Hut is accessible to anyone in good physical condition and is an excellent playground for children.
Hut Facilities
The High Lonesome Hut provides extremely comfortable lodging in the wild.
The three story hut has a wood stove, firewood, running water with an indoor flush toilet, a shower, hot and cold running water, solar electricity, games, mattresses and kitchen utensils (pots, pans and settings for twelve). You provide….sleeping bags and food!
The basement of the hut has a wood stove and plenty of firewood. The main floor consists of a kitchen, dining area, bathroom, guitar, CD player and a small sleeping area. There are two bedrooms in the loft.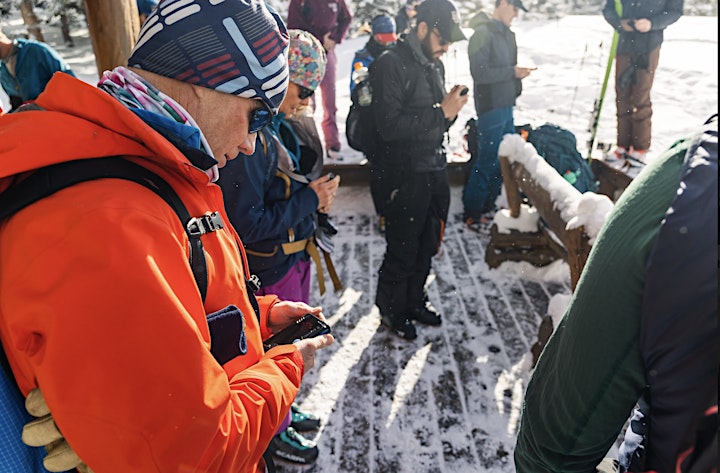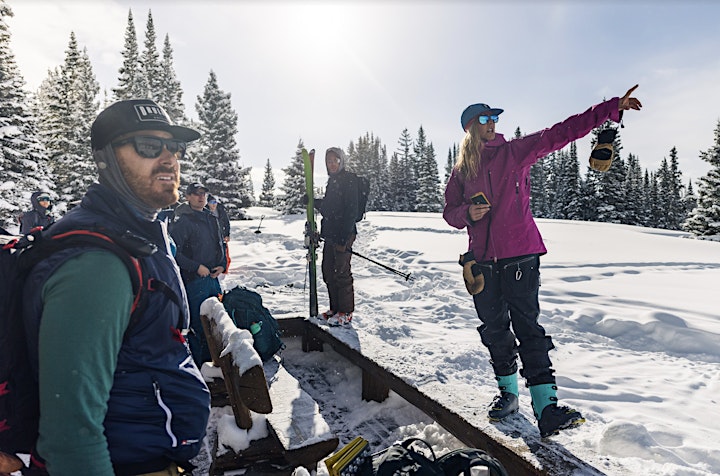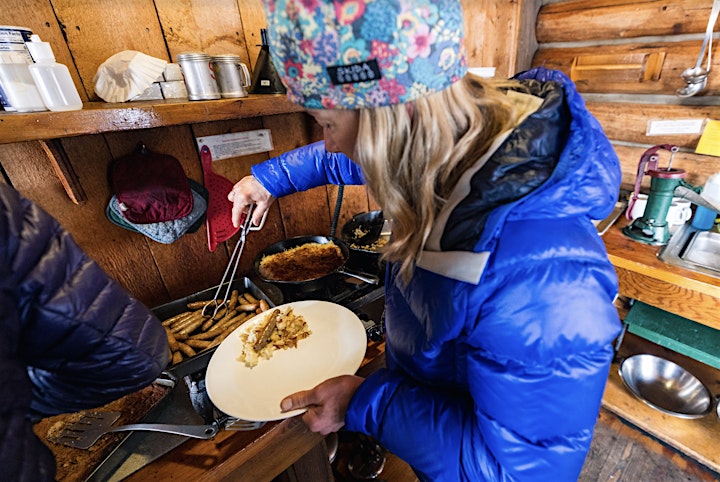 Related Events