Second Annual Harvest Chili Cook-off and Tasting Competition
October 26 @ 6:00 pm

-

8:30 pm

Social | Dine/Drink – Do you have what it takes to be crowned the winner of the 2nd Annual Gravity Haus Harvest Chili Cook-Off? Event Overview Skill Level: Social Event Type: Drink/Dine About the Event: It's time to show off […]

Book Now
More Info
Social | Dine/Drink – Do you have what it takes to be crowned the winner of the 2nd Annual Gravity Haus Harvest Chili Cook-Off?
Event Overview
Skill Level: Social
Event Type: Drink/Dine
About the Event: It's time to show off your competitive side at our Second Annual Chili Cook-Off! Last year, 17 chilis were entered, we had more sides than we could eat.
Bring an appetite and be prepared to enjoy a great night of chili, wine, prizes and music at Nurture! May the best chili win!
Nurture's incredible Nest bartending team will be onsite with libations, and our friends at Moet Hennessy are providing the following tastings for all to enjoy:
Volcan Reposado Tequila
Woodinville Port Finished Bourbon
Cape Mentelle Sauvignon Blanc/Semillon Australia
Chateau d'Esclans Rock Angel Provence Rose
Numanthia Termes Tempranillo Toro Spain
Terrazas Malbec Mendoza Argentina
Important Facts
Are there prizes? Yes. The winner will receive a complimentary night at Gravity Haus Winter Park, the second annual Gravity Haus Chili Cook-Off trophy, and bragging rights. Prizes for the 2nd and 3rd place teams will also be provided. We don't do the whole "participation trophy" thing, so come ready to win!
Can I bring a friend or two? Yes, guests are welcome! Just make sure you complete a form for them so we know how many to expect.
What is provided? 1 alcoholic drink from the Nurture Bar, tastings from Moet Hennessy's portfolio of brands, Chili Entrant signage, voting cards, chili toppings, and service ware will be provided by Gravity Haus.
What do I bring? A big appetite and participation in one of two ways below!
How Can I Participate?
There are two ways to participate: compete in the chili cook off, or come ready to judge the chili.
Chili Competitor – Competitors are asked to bring 1 large crock-pot of chili, and a serving spoon! You may register as a single or a team. You may vote for any chili but your own.
Chili Judge & Side Sous Chef – Not a good chili maker? No problem. Please bring a side to share that can feed 8 people. You may vote for any chili!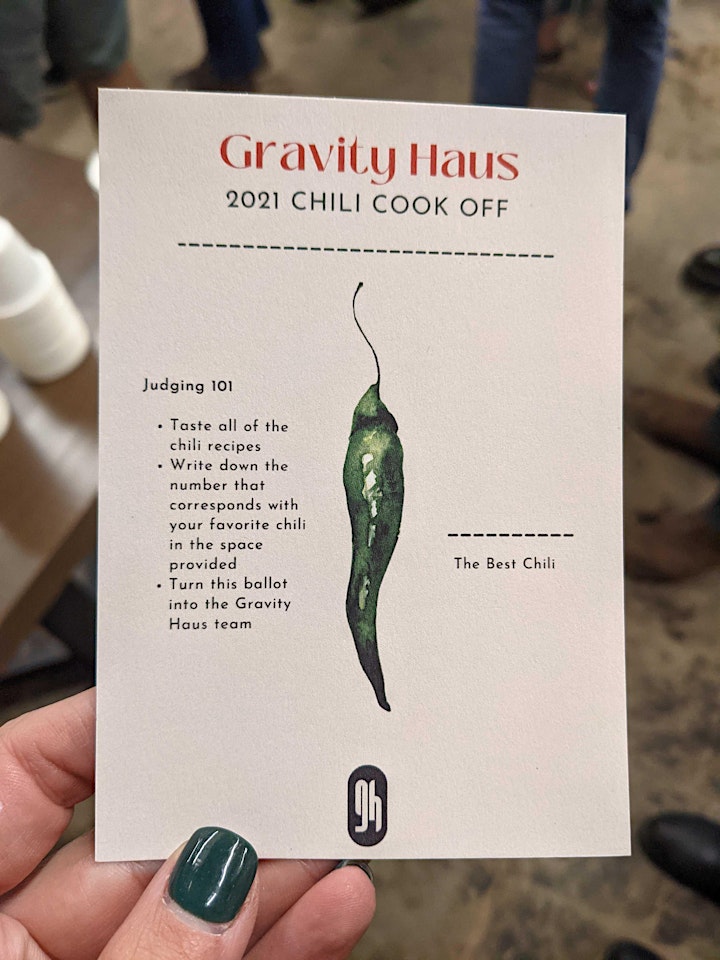 Related Events