My Journey to the 7 Summits, North and South Poles
March 23 @ 5:30 pm

-

7:00 pm

Social | Education – Meet Vail local Meghan Buchanan as she shares her mental and physical journey to tackling the 7 Summits of the world. Event Overview Skill Level: Social Event Type: Education About the Event Grab a cocktail and…

Book Now
More Info
Social | Education – Meet Vail local Meghan Buchanan as she shares her mental and physical journey to tackling the 7 Summits of the world.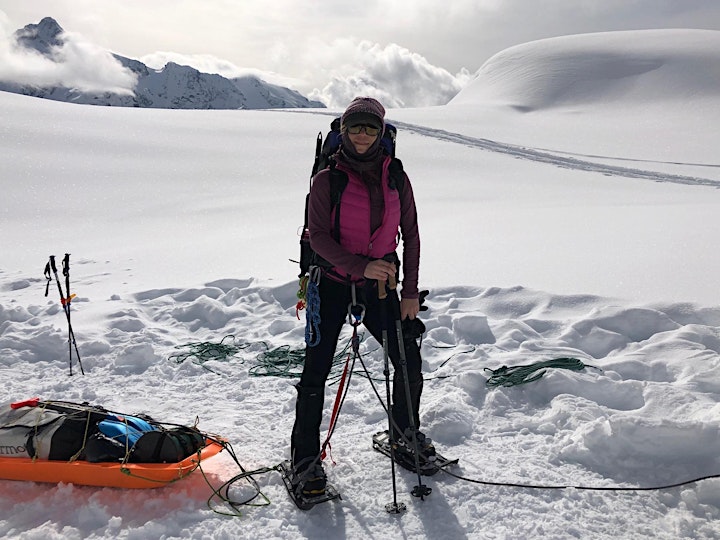 Event Overview
Skill Level: Social
Event Type: Education
About the Event
Grab a cocktail and settle in to listen to an inspiring presentation by Vail local Meghan Buchanan: an aerospace engineer who has overcome dyslexia and severe injury to become one of the most tenacious adventurers you'll ever meet. Just returning to the valley from Antarctica, where she completed the South Pole ski and Vinson Massif Summit, she's transitioned straight into preparing for Mt Everest this spring. The 7 summits will wrap this fall with Carstensz Pyramid (Indonesia), then complete the Explorers Grand Slam with the North Pole Last Degree Ski Spring 2023. Meghan will share her mental and physical journeys with you, and inspire you to pursue your own summits, whatever they may be.
Completed Summits
1. Kilimanjaro (Africa – 19,300 ft)
2. Aconcagua (South America – 22, 838 ft)
3. Elbrus (Europe – 18,510 ft)
4. Denali (North America – 20,322 ft)
5. Everest – First Attempt – Trip Interruption/cancelation due to Covid-19 pandemic
5. South Pole and Vinson Massif (Antarctica – 16,060 ft) – Dec 21'-Jan 22'
Upcoming Expeditions
6. Everest Part II (Asia – 29,029 ft) – April/May 2022 Redo!
7. Carstensz Pyramid (Oceana – 16,024 ft) – Due to Covid, rescheduled for Fall 2022
8. North Pole – Spring 2023
About Meghan
Meghan Buchanan is an Aerospace Engineer, adventure athlete and motivational speaker. She's set her sights on becoming the 1st Rocket Scientist to climb the 7 Summits, the 5th US woman to complete the Explorer's Grand Slam (climbing the world's 7 Summits and last degree ski to the North and South Poles), and eventually 1st US woman to complete the Adventurers Grand Slam (unsupported Poles). She is no stranger to taking on the impossible and defying odds. Through her experiences, she has focused her energy on overcoming learning disabilities, stereotypes, obstacles, and life-threatening injuries by applying her tools of GGRIT (Gratitude – Growth – Resilience – Integrity – Tenacity). She climbs to raise awareness of Dyslexia and inspire everyone to reach their full potential. GGRIT is a choice. Choose to RISE!