HikYoga at Booth Falls + Pizza Dinner
October 14, 2021 @ 4:00 pm

-

8:30 pm

Intermediate | Adventure – Join GH Ambassador Kelly for an adventure mashup: hiking with a little yoga, followed by pizza at Vendetta's! Event Overview Skill Level: Intermediate/Advanced Event Type: Adventure About the Event: Grab your last few signs of fall […]

Book Now
More Info
Intermediate | Adventure – Join GH Ambassador Kelly for an adventure mashup: hiking with a little yoga, followed by pizza at Vendetta's!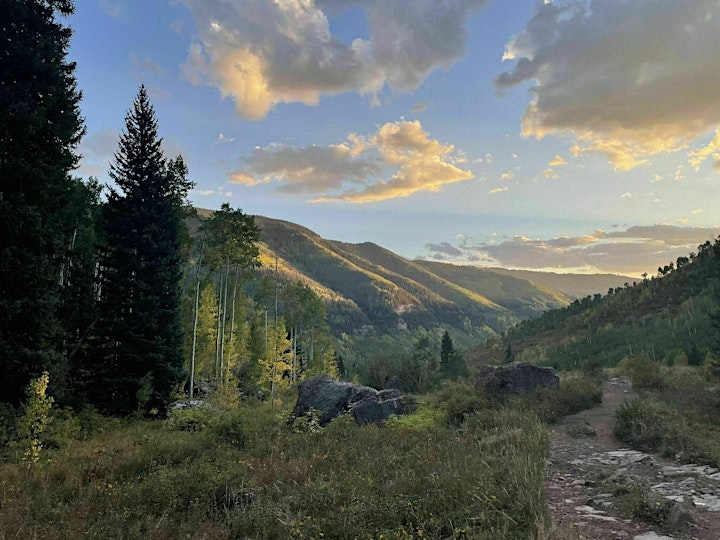 Event Overview
Skill Level: Intermediate/Advanced
Event Type: Adventure
About the Event: Grab your last few signs of fall in the alpine on our first foray into Hikyoga! What is that, you may ask? Hikyoga is an amazing new yoga practice taking yoga outside, blending hiking and yoga.
Our GH Ambassador Kelly Thomson will lead the hike, which will stop at various gorgeous viewpoints for mindful yoga techniques. Our yoga instructor for the night is Jenny Howard, who has over 200 hours of teaching through the Yoga Alliance!
The Booth Falls Trail is one of the most popular hikes in the Eagles Nest Wilderness. The area offers incredible views of rivers, valleys, untouched aspen grove forests, and the steep rocky peaks of the Gore Range. Learn more about the trail we chose here.
After the hike, we'll head to Vendetta's for some pizza to celebrate National Pizza month in style.
FAQ
What should I bring? Trail shoes, light jacket and water. Grab a headlamp if you have one, just in case it starts getting dark on the way down.
Can I bring my pup? You sure can!
Where do we meet? Booth Falls Trailhead – 3099-3061 Booth Falls Rd, Vail, CO 81657
What's included at Vendetta's? We've got your pizza covered, drinks are on you!
Who can attend? This event is open to members & their non-member guests!
Meet Your Hosts
About Kelly: Kelly's passion and hobbies in the outdoors have conveniently aligned with her professional career with Pabst Brewing Company and previous outdoor industry companies. Kelly grew up in a small town around Lake Winnipesaukee and close to the White Mountains of New Hampshire- outdoor adventures were of second nature! She's always traveling and on the move with her 4-year-old Australian Shepherd, Finn. In her free time, you can find Kelly in the mountains- skiing and snowboarding, hiking, camping, and more!
About Jenny: Jenny is a Yoga Teacher based in Denver who first discovered the mental, spiritual, and physical benefits of yoga during her second year of law school, as she began to realize the inevitable pressures and demands of a full-time legal career. In December 2016, Jenny completed her 200-hour Vinyasa Yoga Teacher Certification at Spirit Yoga in San Diego, California; and in December 2021, will complete her 300-hour Advanced Yoga Teacher Training through The River Yoga in Denver.