GH Mixer – Cook Street Cooking Competition
November 29, 2022 @ 6:00 pm

-

9:00 pm

Social | Culinary – Bring out your creative cooking skills and compete against other GH singles in a group cooking competition! Event Overview Skill Level: Social Event Type: Culinary About the Experience: Let us settle the great debate, 'Whose cuisine…

Book Now
More Info
Social | Culinary – Bring out your creative cooking skills and compete against other GH singles in a group cooking competition!
Event Overview
Skill Level: Social
Event Type: Culinary
About the Experience: Let us settle the great debate, 'Whose cuisine reigns supreme'! We'll separate you into groups of 4, provide the instruction and ingredients, then let each team take on one another with their creativity and cooking prowess! Cook Street Chefs will judge the final dishes for flavor, presentation, technique, and best in the show.
What's a Singles Event? We've been asked to create events for singles looking to make friend and maybe more-than-friends connections for a while. We wanted to provide a comfortable environment for our first event, so we're mixing competition with networking at this cooking throw down.
Menu
Theme: Pan Asian
First Course: Lump crab dumplings with pumpkin and XO sauce
Second Course: Chef's choice Koji dry-aged beef steak, charred broccoli with citrus and sesame, peanut crunch
Third Course: Mango sticky rice steamed in banana leaves with coconut milk caramel
Important Notes
What's included: Three course meal, guided cooking competition, and 1 alcoholic beverage.
What's not included: Additional alcoholic beverages after your first drink.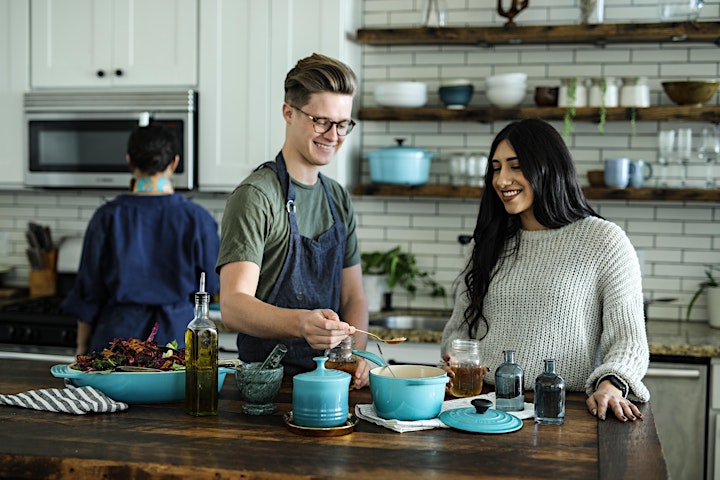 Related Events