Front Range Supper Club: Tapas, Paella and Sangria at Barcelona
March 31 @ 5:30 pm

-

8:00 pm

Social | Culinary – Join us for a night filled with good food, good company and good times! Event Overview Skill Level: Social Event Type: Culinary About the Event: Join us at Barcelona Wine Bar located in the RiNo district.…

Book Now
More Info
Social | Culinary – Join us for a night filled with good food, good company and good times!
Event Overview
Skill Level: Social
Event Type: Culinary
About the Event: Join us at Barcelona Wine Bar located in the RiNo district. Step into Barcelona and become immersed in Spanish culture through food, drinks and music. We will be indulging in delicious Spanish tapas, paella and sangria! You won't want to miss it!
Whats on the menu?
FAMILY STYLE TAPAS
gambas al ajillo
jamon and manchego croquettes
potato tortilla with chive sour cream
beef empanadas with pepper sauce
chef's seasonal vegetable
rustic bread + olive oil
FAMILY STYLE ENTREES
Mariscos Paella – clams, squid, mussels & prawns
Parillada Mixed Grill – NY Steak, Half Chicken, Gaucho Sausage, and Pork Chop served with chimmichurri sauce
Vegan/Vegetable Parillada (assorted vegetable board)
FAMILY STYLE DESSERT
assorted dessert platters
FAQs:
Whats Included? Food, drinks and fun! *Gratuity is included.
Where is the event? Barcelona Wine Bar – 2900 Larimer St, Denver, CO 80205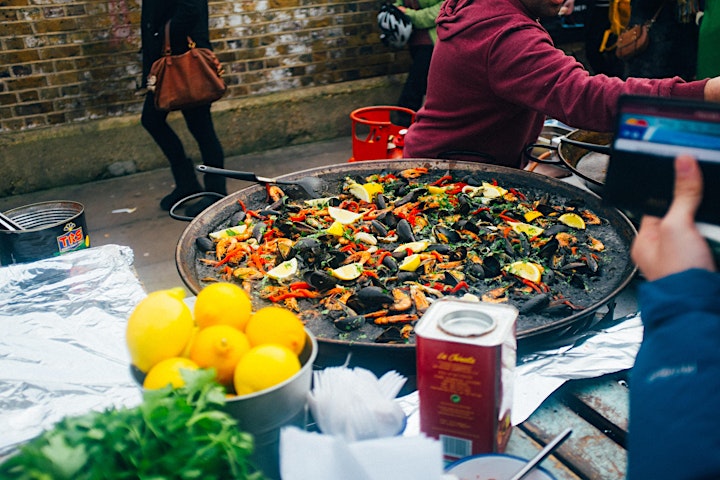 Related Events