Cabin Juice End of Summer BBQ with New Belgium Brewery & Live Music
August 29, 2022 @ 5:00 pm

-

7:00 pm

Social | Dine/Drink – Join us for an end-of-summer hog roast with R Farms and New Belgium Brewery on the patio at Cabin Juice Event Overview Skill Level: Social Event Type: Drink/Dine About the Experience: Celebrating the end of summer…

Book Now
More Info
Social | Dine/Drink – Join us for an end-of-summer hog roast with R Farms and New Belgium Brewery on the patio at Cabin Juice
Event Overview
Skill Level: Social
Event Type: Drink/Dine
About the Experience: Celebrating the end of summer and our farm partner, R Farms, this outdoor dinner features a whole hog hailing from R Farms in Eagle, Colorado and beverages from New Belgium Brewery. Live music will accompany your dining experience on the patio at Cabin Juice, where Chef Josiah Gordon and our new Director of Culinary, Jason Brumm will serve:
Starter
Charred Peach Salad with Goat Cheese, Blueberry and Mint
Entree
R Farms Pork Shoulder
Housemade Brioche Loaf
Grilled Elote
Palisade Potato Salad
Grilled Asparagus and Grated Pecorino
Dessert
About our Beverage Partner: This month we are partnering with New Belgium Brewery! New Belgium is a local Colorado company that started up in Fort Collins. Learn more about the beverage partner we chose here.
Important Notes
Responsible drinking: Please consider booking a room at Gravity Haus with your member discount if you don't have a designated driver.
Timing: The welcome reception is casual, but we will begin dinner and the pairings promptly at 5:30p.m. If you will be late, kindly let us know.
What's included? A three course meal and pairings are included. Additional drinks will be available for purchase.
Can I bring a friend? Yes! You must register your plus one for them to have a seat.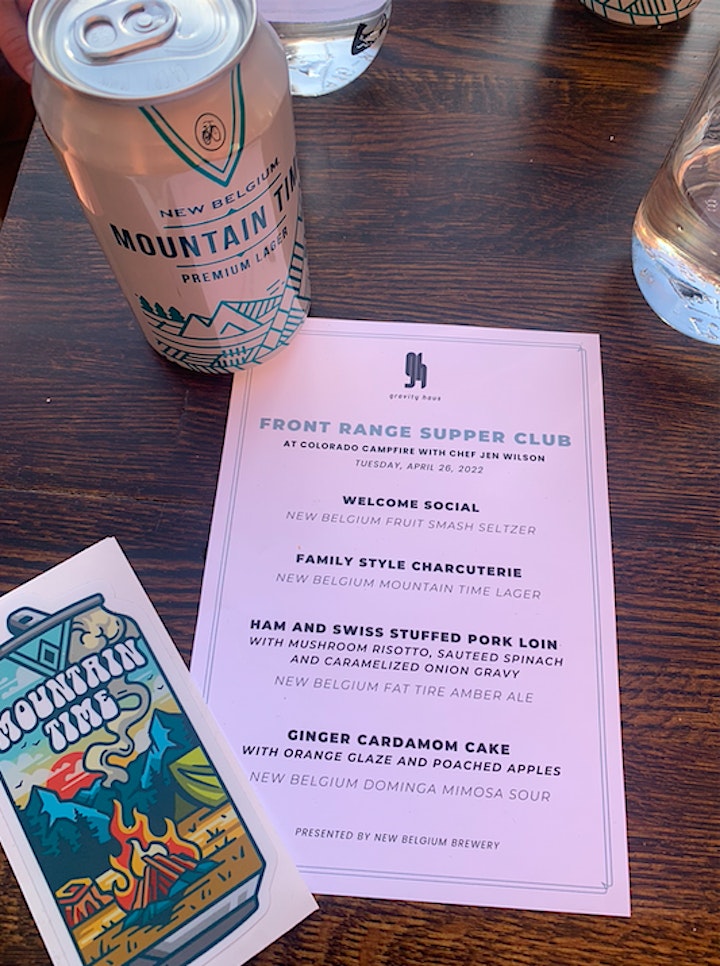 Related Events