Aspen to Crested Butte Overnight Hiking Experience + Dinner
August 28 @ 8:00 am

-

August 29 @ 5:00 pm

Experience the spectacular Aspen to Crested Butte hike with an overnight stay in the beautiful town of Crested Butte with fellow GH members! About the event: Grab your friends and join fellow GH members for the hike of a lifetime […]

Book Now
More Info
Experience the spectacular Aspen to Crested Butte hike with an overnight stay in the beautiful town of Crested Butte with fellow GH members!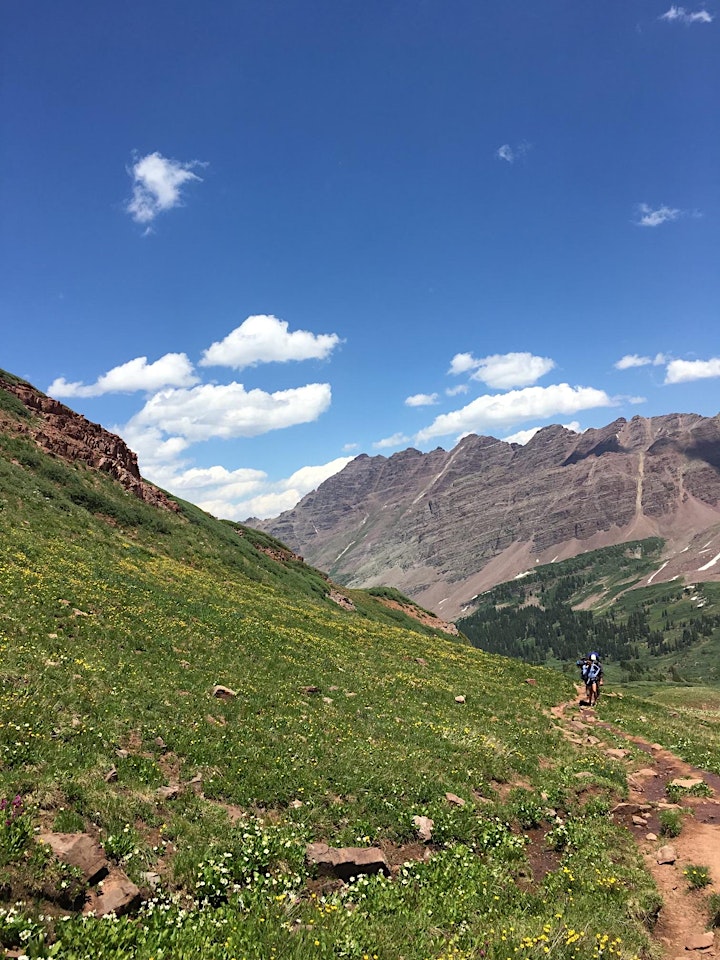 About the event: Grab your friends and join fellow GH members for the hike of a lifetime from Aspen to Crested Butte! We've curated a custom member experience, featuring a 2-day hike from Aspen to Crested Butte.
The journey begins from the Aspen Highlands at 8 am on Saturday morning. Not for the faint-hearted, this hike is 11 miles (one-way) through the breathtaking Maroon Bells. Power through 3,265 ft of elevation gain from Aspen to Crested Butte and champion an altitude of 12,490 ft on this 7-9 hour trek.
Members will have two options for this 2-day hiking excursion.
One-way guided hike with a shuttle from Crested Butte back to the Aspen Highlands after resting up at the Nordic Inn at the base of Mount Crested Butte.
Round-trip guided hike. Hike to Crested Butte and back to Aspen after a restful night at the Nordic Inn. The hike back is the same 11 miles with 2,357 feet of elevation gain. It is less strenuous than Day 1. Experience Aspens, wildflower fields and mountain vistas from a different point of view. This two day experience promises to be priceless.
Together we'll discover some of the most scenic and memorable views Colorado has to offer, get the full scoop here:
Itinerary:
Saturday, August 28:
8am: We will be picked up from Aspen Highlands at 8am sharp and taken to the trailhead. Do not be late! The bus will take us 45 minutes to the beginning of the West Maroon Bells Trailhead. (Breakfast will be provided).
9am: We will begin our 11 mile trek to the city of Crested Butte. Along the way, you will see the most beautiful wildflower fields, mountain vistas and Aspen as we travel through the Maroon Bells. (Lunch will be provided but please bring snacks!)
4pm-6pm: You made it to Crested Butte! Pick up at the trailhead and taken to the Nordic Inn, your accommodations for the night!
7pm: Dinner at a delicious restaurant in downtown Crested Butte with GH members and friends!
9pm: Transport back to the Nordic Inn for a well-deserved nights rest!
Sunday, August 29th for Round-Trip Hike:
6:30 – 7:30am: Breakfast at the Nordic Inn
8am: Pickup from the Nordic Inn and taken to trailhead 40 minutes away.
8:45am: Begin hike back to Aspen (about 6-8 hours). Lunch will be provided!
3pm-5pm: You did it! Shuttle back to the Aspen Highlands.
Sunday, August 29th for One-Way Hike:
6:30 – 7:30am: Breakfast at the Nordic Inn
8am – 12pm: Free time to explore CB
1pm: Shuttle from Nordic Inn to Aspen Highlands
4pm: Arrive back at Aspen Highlands
Who is Coming? Medical staff and members of the GH Team
What is Included?
2 Breakfasts
2 Lunches
1 Dinner + Drinks
1 Night Accommodations
Trailhead and Crested Butte Transport
Medical Staff
GH Staff
What is not included?
Transport to/from Aspen Highlands
Trail snacks
WATER! Make sure to bring plenty of water for this strenuous hike, you will need it! We suggest camelbacks!
When Registering: You have to sign up all attendees separately! If you wish to bring 1 guest, you will have to sign up your guest with a separate transaction.
Members who are traveling solo will be required to room with another GH member of the same sex.
*This hike will be 100% non-refundable 3-weeks prior to the event.